Ideas4ADIs know that time is money for ADIs and we don't want our customers having to wait in all day for their parcels to turn up, which is why we use Interlink Express "Predict" delivery service with a one-hour delivery window for many of our products. Just look out for the logo on the product pages. This is how it works:
Firstly you'll receive an e-mail confirming you parcel has been dispatched and what day it will be delivered
Secondly on the day of the delivery you'll with receive a text* and/or an e-mail with an hourly delivery slot.
Thirdly if this is not convenient you can use the text or email to change the delivery date.
* You'll only receive a text if you have given us your mobile phone number as your contact number

ADD TO BASKET

Discounts available for bulk orders, please call to discuss

08432 899 118

AVAILABILITY : IN STOCK
DELIVERY : 3 - 5 WORKING DAYS
(UK MAINLAND)



ADI Multi-Buy - Special offer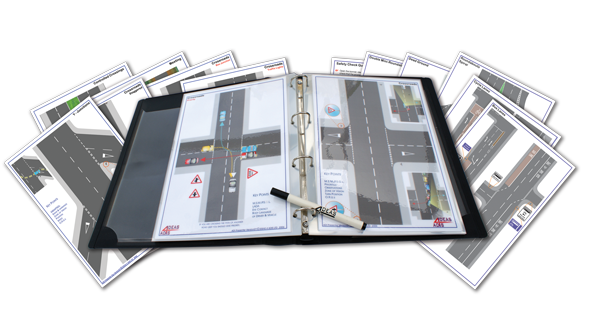 ADI Lesson Presenter + Expansion Pack 1 + Expansion Pack 2
ADI Lesson Presenter
This indispensable visual aid is produced to such high quality it will last you for many years. Whether used in briefing, recapping or discussing lesson topics the comprehensive illustrations and Key Points offer valuable support to any ADI.
Features include:
Click here to see the subjects covered.
Expansion Pack 1
Produced to the same high standards, Expansion Pack 1 compliments and enhances the ADI Lesson Presenter by providing 12 new illustrations to support the ADI in delivering quality lessons. The subjects covered are:
Y Junctions
Box Junctions
Junctions on Bends
Right Turn Filters
Staggered Crossroads
Crossroads Nearside to Nearside
Crossroads Light Controlled
Unmarked Crossroads
Staggered Crossing
Pegasus Crossings
Meeting & Passing
Meeting Low Bridge
Expansion Pack 2
Again fully encapsulated and printed to the same high standards, contains a further 12 new illustrations to give ADIs the most complete visual training aid available. A number of the illustrations in this pack were created after taking onboard feedback from 'YOU', our customers.
The subjects covered are:
Bus Lanes
Cycle Lanes
Double Mini Roundabout
Satellite Roundabout
Roundabout Traffic Lights
Spiral Roundabout
Junction Combination
Dead Ground
Level Crossings
Level Crossings - Barrier
Level Crossings - Open
Level Crossings - User Worked