ADD TO BASKET

Buy the ADI Presenter, Expansion Pack 1 & 2 and

save £10

- click here

Discounts available for bulk orders, please call to discuss 08432 899 118

AVAILABILITY : IN STOCK
DELIVERY : 3 - 5 WORKING DAYS
(UK MAINLAND)
Ideas4ADIs - ADI Expansion Pack 2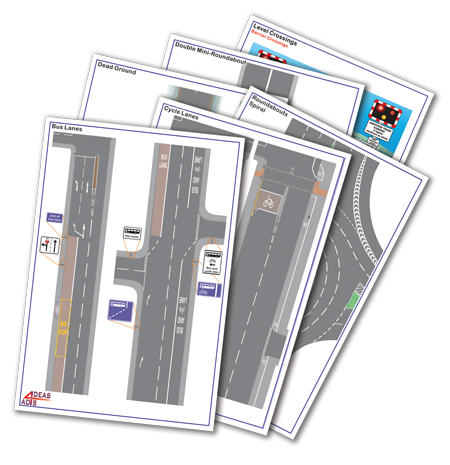 To further augment the ADI Lesson Presenter, Expansion Pack 2, again fully encapsulated and printed to the same high standards, contains a further 12 new illustrations to give ADIs the most complete visual training aid available. A number of the illustrations in this pack were created after taking onboard feedback from 'YOU', our customers.
The subjects covered are:
Bus Lanes
Cycle Lanes
Double Mini Roundabout
Satellite Roundabout
Roundabout Traffic Lights
Spiral Roundabout
Junction Combination
Dead Ground
Level Crossings
Level Crossings - Barrier
Level Crossings - Open
Level Crossings - User Worked
feedback
"Hi. I've just received my ADI Lesson Presenter and Expansion Pack today. My partner liked it so much that I'm ordering another one right away. The pictures are excellent and well presented and it looks very professional. No more sketching odd or complex junctions for me. Thanks a lot, well worth the price tag."
Mark Hamilton DSA ADI