ADD TO BASKET



Discounts available for bulk orders, please call to discuss 08432 899 118

AVAILABILITY : IN STOCK
DELIVERY : 5 - 7 WORKING DAYS
(UK MAINLAND)
Driving Test Success - All Tests 2014 Edition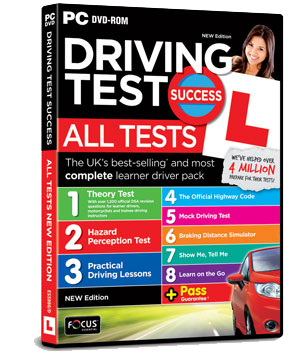 Why choose Driving Test Success?
The UK's No.1 driving test software brand at retail for 14 years
We've helped over 5 million learners prepare for their tests
A trusted and established brand since 1997
All our products contain the most up-to-date materials from the Driving Standards Agency, the people who set the tests
A range of award winning products at affordable prices
Multiple platforms available for the way you want to learn: PC, Mac, DVD players and games consoles, digital downloads, online training and Apps.
Recommended by the leading independent driving instructor associations
Free UK-based support

THEORY TEST
NEW Practise using ALL the official DSA revision questions, valid from September 2011 onwards.

Suitable for learner car drivers, motorcyclists and ADIs in Great Britain and Northern Ireland.

Practise case study questions covering all 14 DSA categories.

Sit unlimited random mock tests that accurately simulate the official DSA exam

NEW View official DSA explanations.

Customise tests to practise questions that need more revision.

Detailed progress monitor.

Printable Theory Test book and exam papers.

Learn on the Go - Practise official DSA Theory Test revision questions using your mobile, music player or tablet.

HAZARD PERCEPTION

Practise hundreds of interactive test simulation video clips.
Sit unlimited random mock tests that accurately simulate the OFFICIAL test by the DSA.
Watch the 10 OFFICIAL DSA Hazard Perception sample video clips and introduction video.
Review each clip and find out where each hazard develops.
Detailed progress monitor.

PRACTICAL DRIVING LESSONS

Over 50 completely up-to-date video tutorials
Contains all the changes to the OFFICIAL DSA driving test including Independent Driving and Observer on Test.
Contains all the OFFICIAL DSA Show Me, Tell Me test questions, plus step-by-step video tutorials....and much more.