Ideas4ADIs know that time is money for ADIs and we don't want our customers having to wait in all day for their parcels to turn up, which is why we use Interlink Express "Predict" delivery service with a one-hour delivery window for many of our products. Just look out for the logo on the product pages. This is how it works:
Firstly you'll receive an e-mail confirming you parcel has been dispatched and what day it will be delivered
Secondly on the day of the delivery you'll with receive a text* and/or an e-mail with an hourly delivery slot.
Thirdly if this is not convenient you can use the text or email to change the delivery date.
* You'll only receive a text if you have given us your mobile phone number as your contact number

ADD TO BASKET

Buy the ADI Presenter, Expansion
Pack 1 & 2

save £12

- click here

Discounts available for bulk orders, email info@ideas4adis.co.uk

AVAILABILITY : IN STOCK
DELIVERY : 3 - 5 WORKING DAYS
(UK MAINLAND)
Ideas4ADIs - ADI Lesson Presenter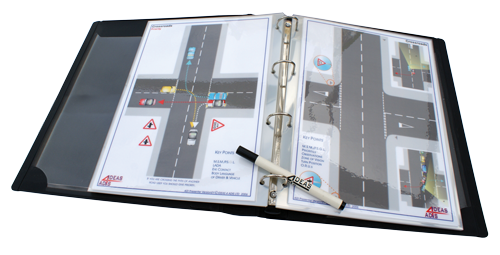 This indispensable visual aid has been updated for the new test and will last for years, giving valuable support to any ADI whether recapping, briefing or discussing lesson topics.
NB: Ringbinder may vary from that illustrated
Features include:
You can view or download a PDF file listing the contents of the Lesson Presenter, click here .
Additional sets of diagrams, which can easily be added to your presenter, such as Pass Plus, traffic signs and road markings will be available soon. Keep checking back to this site or sign up for our newsletter and receive special offers!
feedback
The presenter looks ace, I'm well chuffed. This is full of pictures with a few keywords and I work by pictures far better so I am one happy bunny, the quality is superb. I love the lesson presenter and I am pleased to say I bought the expansion pack to top notch!!"
Hayley Thomas ADI, HND Driving School, Salisbury via www.drivertrainingtoday.co.uk ADI Forum