Ideas4ADIs know that time is money for ADIs and we don't want our customers having to wait in all day for their parcels to turn up, which is why we use Interlink Express "Predict" delivery service with a one-hour delivery window for many of our products. Just look out for the logo on the product pages. This is how it works:
Firstly you'll receive an e-mail confirming you parcel has been dispatched and what day it will be delivered
Secondly on the day of the delivery you'll with receive a text* and/or an e-mail with an hourly delivery slot.
Thirdly if this is not convenient you can use the text or email to change the delivery date.
* You'll only receive a text if you have given us your mobile phone number as your contact number

ADD TO BASKET



Discounts available for bulk orders, email info@ideas4adis.co.uk

AVAILABILITY : IN STOCK
DELIVERY : 3 - 5 WORKING DAYS
(UK MAINLAND)
Ideas4ADIs - Pupil Handouts - Updated for New Test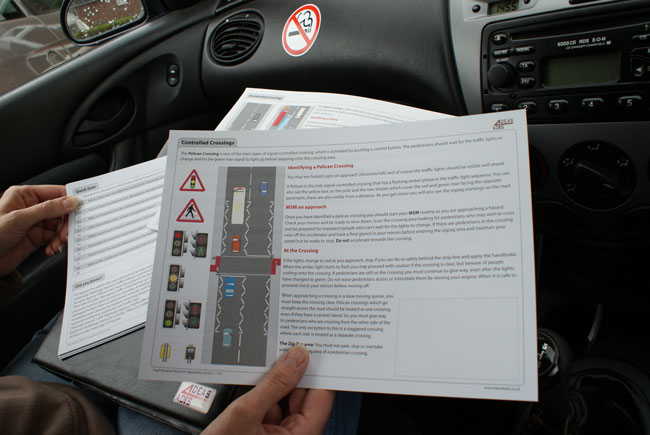 Our pupil handouts are designed to compliment our ADI Lesson Presenter and give you the perfect tool to reinforce in-car tuition!
What's on the Pupil Handouts?
A-side:
Full subject brief/recap
Professionally illustrated (compliments the ADI Lesson Presenter)
Driving school personalisation box for your logo contact details or promotional message
NEW B-side:
Expanded Quick Quiz section with 8 questions and additional space for the pupil's answers
'Did you know?' section providing your pupil's with useful road safety information
'Top Tips' section giving your pupil additional tips on best practice for safety
Quality
"I wish to congratulate on the quality and format of your handouts." PC DSA ADI
All our products are produced to the highest standards to enhance your professional image
Top quality 90gsm grade A4 paper
Litho printed for the best colour, clarity and durability
Each pupil handout set is individually sealed in its very own durable polythene envelope
Each set is labelled for your pupil's details for easy identification and progress tracking
Professional

"It adds immensely to the overall professional image. They give the student something to refer to in
practice and in between lessons to keep the knowledge fresh." RL DSA ADI

Clear summary of the subject and key learning points.
Quick Quiz to test the pupil's knowledge and enhance their learning
Great for recapping, so less time going over old ground more time doing
Advertise Pass Plus, Motorway Lessons, Recommend a Friend the choice is yours
Value

"I ordered the pupil handouts and I must say for the price I paid I am totally chuffed, and so are my pupils. They are fantastic." HT, Salisbury

There are 20 sets in a pack – that's 20 pupils worth of top quality handouts!
We've done the maths:
20 sets at £75, that's £3.75 per pupil
£3.75 for 25 sheets, that's 15p per double page
Every handout is an advert, with the personalised business card box and our MS Office Word template, you can print any promotional message you wish.
Click here to download a sample PDF
Click here for a list of the handouts featured in Pack 2
Click here to download the template to enable you to personalise your Pupil Handouts
feedback
"Excellent! Extremely beneficial to both pupil and instructor alike."
John Griffiths - Helensburgh